Got a Mac? Here's a list of great free music production software
General Tips
Published on May 28th, 2013 | by Caesar (ENGAGE)
Professional music production software such as Pro Tools can cost upto 600 odd KD. If you have that kind of money to invest in software, then great, however there are a lot of independent musicians on shoe string budgets and having good software without having to feel the pinch is important. If you have a Mac, check out our list below:
1) Audicity
Audacity is a free, easy-to-use audio editor and recorder for Windows, Mac OS X, GNU/Linux, and other operating systems. You can use Audacity to:
Record live audio.
Convert tapes and records into digital recordings or CDs.
Edit Ogg Vorbis, MP3, and WAV sound files.
Cut, copy, splice, and mix sounds together.
Change the speed or pitch of a recording.
Many more semi – professional features
2) Ardour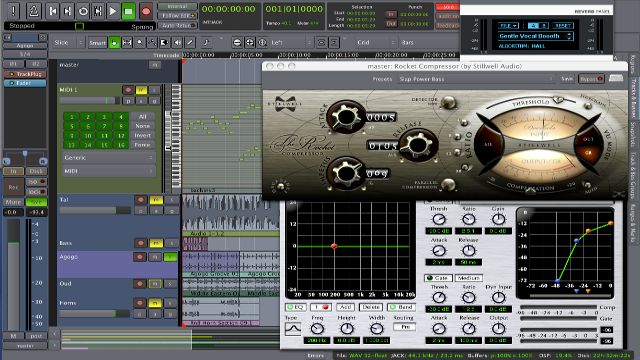 Ardour is a digital audio workstation. You can use it to record, edit and mix multi-track audio. You can produce your own CDs, mix video soundtracks, or just experiment with new ideas about music and sound. Ardour capabilities include: multichannel recording, non-destructive editing with unlimited undo/redo, full automation support, a powerful mixer, unlimited tracks/busses/plugins, timecode synchronization, and hardware control from surfaces like the Mackie Control Universal.
3) MRP Sequencer
MRP Sequencer goes a little beyond the feature set of most step sequencers. It can accomodate sequences of up to 64 steps, track count limited only by processing power, output MIDI port and channel can be set per step, select-modify paradigm enables any set of steps to be, affected by editing operations extensive randomisation/variation functions, clean graphical user interface, and a text user interface enables full scripting.
4) Studio One Free
Some features include:
Elegant single-window work environment
Powerful drag-and-drop functionality
Unlimited Audio and Instrument (MIDI) tracks
Unlimited FX channels
Two simultaneous inputs and outputs
Unlimited inserts and sends per channel
Single and multitrack comping
Multitrack MIDI editing
Track list with presets and mixing-console link
Track Transform (advanced freezing capability)
Content browser with search, user tabs, and preview player
Automatic delay compensation
Easy-to-use sidechain routing
Many Many more
5) Monkey Machine
Monkey Machine is a free online drum machine for creating drum loops and providing rhythmic accompaniment for musicians. Monkey Machine features are:
Over 20 high quality drum kits provided by Natural Studio and Hydrogen.
Extremely accurate timing.
Online drum beat database with over 10 000 downloadable drum beats.
Export drum beats as MIDI files.
Tap tempo.
Variable time signatures.
Many more